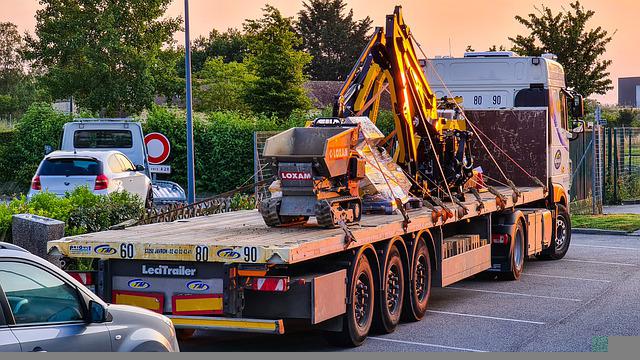 There are lots of kinds of trucks you can drive — and lots of types of drivers.
Flatbed truckers tend to be the kind of people who are up for a challenge and like physical activity. One of the unique aspects of flatbed trucking is handling your load — making sure it is loaded properly, balanced, and protected. It demands some skills you don't need in other positions in the trucking industry.
The benefits of being a flatbed truck driver are that the job provides more variety, a chance to be physically active, and the opportunity to make more money from things like tarping pay. 
This site is designed to be useful for two different types of people. 
Drivers New to flatbed trucking
If you're exploring a new career in flatbed trucking or thinking about moving over from some other segment of the trucking industry, you'll find helpful information about topics like pay, training, and jobs.
Experienced flatbed truck drivers
This site brings together in one convenient place information about flatbed trucking companies, jobs, and salaries.
According to the most recent data from the U.S. Bureau of Labor Statistics, almost 2 million people in the U.S. work as truck drivers. That number is expected to go up by more than 100,000 every year. When you're a qualified truck driver, you have a skill that's in demand.
Head to our jobs page to discover more about employment in flatbed trucking and find your next opportunity as a flatbed driver.
Flatbed Trucking Companies
Sometimes the best way to find the opportunity you're after is to reach out to a flatbed company near you. 
We've put together a list of flatbed trucking firms by state to make your job easier.
Frequently asked questions
What is flatbed trucking?

Flatbed trucks have an open trailer that is especially useful for hauling heavy, oversized, or irregularly-shaped loads. A flatbed trailer also allows for easy access to a load to facilitate loading and unloading.

It uses a different trailer and tends to handle different kinds of loads than dry van trucks and other haulers.

Is flatbed trucking hard?

As we've noted, flatbed trucks are unique and flatbed drivers have certain responsibilities you won't find in dry van hauling. These extra jobs have to do with managing the load.

While flatbed drivers do not necessarily load or unload the materials they are hauling themselves, they are responsible to make sure they are loaded and secured properly. This includes ensuring the load is balanced correctly on the flatbed trailer to avoid any problems that could come from an uneven weight distribution.

Flatbed drivers often also have to cover their loads with tarps to protect what they are hauling from the weather. This can be hard work when you are wrestling to secure heavy tarps over large, oddly-shaped flatbed loads.

So a flatbed driver has some challenges other drivers don't, but for many of those who work for a flatbed carrier, that's actually part of the attraction to the job.

What is a flatbed truck used for?

You'll often see flatbed trailers used to haul large freight, like industrial equipment; heavy freight, like steel pipes; and freight that is much easier to load and unload from an open trailer, like lumber and other construction materials. Flatbed freight can also include oversized loads, like mobile homes.

Do you need a CDL to drvie a flatbed truck?

Just as in other forms of trucking, truck drivers need a CDL Class A license to operate a flatbed truck.

What is tarping pay?

Tarping pay is for the time and effort flatbed truck drivers consume in covering what is often a large and irregularly-shaped load with a tarp and sometimes thick, steel chains to protect it from the elements. When it comes to flatbed trailers, ensuring the load is protected is the driver's responsibility.